This post may contain affiliate links. If you buy thru these links, we may earn a commission at no additional cost to you.
---
If you're reading this, you may be thinking about getting into collecting coins. That's great!
Coin collecting is not only a hobby… it's an investment. Every coin that you add to your collection will only gain value over the years.
So, what tools and supplies do you need to start collecting?
3 Must-Have Coin Collecting Items
#1 – For starters, you'll want a magnifying tool. This will be just about every collector's best friend.

I learned this the hard way back when I first started collecting coins…
I was going through big pile of old wheat cents from the teens. All were extremely circulated and had a lot of wear to them. I found myself squinting my eyes at every one of them, trying to read the dates and mint marks while holding them up at different angles in the light to see if that would help.
Needless to say, I had a coin magnifier by the end of the week!
#2 – Next, you need a price guide.
I prefer the Red Book which has colored detailed pictures and good info. However, the Blackbook has some good info also and is half the price.
Both can be picked up at your local coin shop or at an online store.
#3 – You'll also want to protect your coins from further wear or scratches. Depending on what you're collecting, they make all sorts of protective sleeves and holders.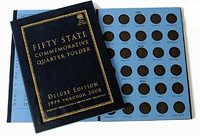 If you're just wanting to start a lower grade collection of cents or nickels, I would suggest using coin folders. Folders have individual dated slots to place the corresponding coin in. Whitman makes folders for just about every type of coin that was ever minted — from buffalo nickels to gold dollars.

If you have just a few random coins that you're not going to make a set out of, you'll want to get some plastic coin holders. They are single coin holders that have an opening for 1 coin and an opening for a label that you've written on. If you want to go a little bit cheaper and do a little more work, they sell individual cardboard coin holders that have see through plastic centers so you can see the coin. These are less expensive, but you have to staple the 4 sides to keep the coin secure.

Coin tubes are also good for storing coins. If you have several hundred wheat pennies, they make hard plastic coin tubes that hold 50 pennies each. They make coin tubes for all denominations of coins.
Well, those are really the only "basic" items you'll need to start collecting coins.
TIP: If you can't find an item you're looking for at the Whitman site, try Valley Coin. It's a small company with a large inventory. I've dealt with them a few times — they're very nice people and ship the items fast.
Other Coin Collecting Items You Might Want To Consider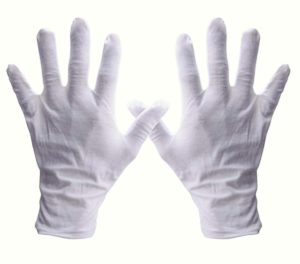 If you get into more serious about collecting coins or have high-grade coins, then you'll want to have special gloves — because human skin has oils and dirt that can be harmful to coins. A thin pair of cotton gloves are best.
You'd also want some kind of felt cloth (or other non-abrasive cloth) to lay your coins on while examining them. If you have a higher grade coin, you don't just want to throw it on the table!
A Word Of Advice About Cleaning Coins
The last thing I want to mention…
If you are new to coin collecting, then you might be thinking about "cleaning" your coins.
Never clean your coins! Here's why.
Yes, some of your coins are going to look dull and dingy, but cleaning coins reduces the value to a collector. And yes, they will be able to tell.
All that being said, you'll just need to do one more thing to be a good collector: Have fun!
Here's another longtime coin collector's list: 5 Cheap Coin Supplies You Need & Where To Find Them
I have been collecting and trading coins for years. Coin collecting is a hobby for me, and I've done a lot of research about coins through the years.