This post may contain affiliate links. If you buy thru these links, we may earn a commission at no additional cost to you.
---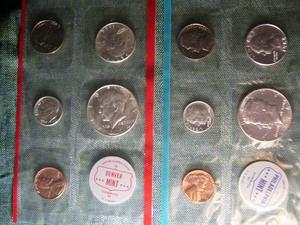 Old silver mint sets are a terrific bargain and wonderful way to collect old silver coins.
Silver mint sets were made from 1947 to 1964 and again during the United States Bicentennial celebration in 1976. Silver mint sets generally contain uncirculated examples of the types of the same coins seen in pocket change.
For the sake of discussion, I'll cover silver mint sets which have 90% silver coins and the special issue 1976-dated Bicentennial silver mint set.
Mint sets made from 1965 to 1970 contain only 1 40% silver half-dollar.
Silver mint sets are great collectibles. They make it easy to collect old coins in uncirculated grade because when you buy a mint set, you're buying several coins in one purchase. What makes these sets even nicer is that they all were packaged by the United States Mint, so you know you're getting genuine, uncirculated coins.
Types of Silver Mint Sets
Silver mint sets can be divided up into 3 different categories:
Silver mint sets in cardboard holders 1947-1958
Silver mint sets in cellophane packs 1959-1964
Bicentennial silver mint sets dated 1976
Cardboard mint sets contain 2 examples of each coin with each mintmark.
That means in a year like 1954, when the cent, nickel, dime, quarter, and half-dollar were made at the Philadelphia, Denver, and San Francisco mints, you'll find:
2 1954 Lincoln cents
2 1954-D Lincoln cents
2 1954-S Lincoln cents
2 1954 Jefferson nickels
2 1954-D Jefferson nickels
2 1954-S Jefferson nickels
2 1954 Roosevelt dimes
2 1954-D Roosevelt dimes
2 1954-S Roosevelt dimes
2 1954 Washington quarters
2 1954-D Washington quarters
2 1954-S Washington quarters
2 1954 Franklin half dollars
2 1954-D Franklin half dollars
2 1954-S Franklin half dollars
Whew! That's a long list of coins! But that's how many uncirculated coins came in most of the mint sets during 1947 to 1958. Each batch of coins from each mint was packaged in its own cardboard holder. The 1954 set has 3 cardboard holders — one for each mint's coins.
The mint sets made from 1959 into the 2000s are different from the earlier cardboard silver mint sets in 2 distinct ways:
They contain just 1 (not 2) examples of each coin from each mint.
These mint sets are housed in cellophane holders.
The silver mint sets from 1959 to 1964 come in 2 cellophane holders. Each cellophane holder has 5 coins and a special mint token.
The Philadelphia coins come in a cellophane holder with blue edges and a Philadelphia token.
Denver coins come in a cellophane holder with red edges and a token from the Denver mint.
Here's a look at the coins you'll find in a 1964 mint set:
1 1964 Lincoln cent
1 1964-D Lincoln cent
1 1964 Jefferson nickel
1 1964-D Jefferson nickel
1 1964 Roosevelt dime
1 1964-D Roosevelt dime
1 1964 Washington quarter
1 1964-D Washington quarter
1 1964 Kennedy half dollar
1 1964-D Kennedy half dollar
The 1976-dated silver mint sets made during the U.S. Bicentennial celebration contain special 40% silver examples of the regular copper-nickel clad Bicentennial coins most of us are used to finding in circulation. The 1976-dated silver mint set also contains coins made at the San Francisco mint.
Here's what you'll find in a 1976 silver mint set:
1976-S 40% silver Bicentennial quarter
1976-S 40% silver Bicentennial half-dollar
1976-S 40% silver Bicentennial dollar
As you can see, the silver mint sets dated for 1976 are quite small compared to the silver mint sets of earlier years. However, 1976-dated silver mint sets are very popular and make a great gift idea for anybody who:
Collects coins
Appreciates American history
Enjoys patriotic memorabilia
Values of Silver Mint Sets
Silver mint sets are quite a bit more valuable than copper-nickel-clad mint sets of later years. Because silver prices fluctuate, the values of silver mint sets also vary from time to time. Here's a list of silver mint set values current as of January 2010:
1947 $1,425
1948 $685
1949 $875
*1951 $950
1952 $825
1953 $575
1954 $290
1955 $250
1956 $180
1957 $245
1958 $160
1959 $62
1960 $35
1961 $47
1962 $26
1963 $26
1964 $26
1976 Bicentennial 3-piece 40% silver set $16
*There weren't any mint sets made in 1950. Values are from the Professional Coin Grading Service mint set online price guide.
Buying Silver Mint Sets
While you can't buy silver mint sets from the United States Mint anymore, you can still find plenty of silver mint sets from coins dealers. Be sure to check out your local brick & mortar coin dealer or an online coin dealer.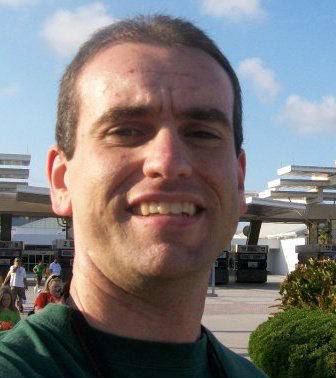 I'm the Coin Editor here at TheFunTimesGuide. My love for coins began when I was 11 years old. I primarily collect and study U.S. coins produced during the 20th century. I'm a member of the American Numismatic Association (ANA) and the Numismatic Literary Guild (NLG) and have won multiple awards from the NLG for my work as a coin journalist. I'm also the editor at the Florida United Numismatists Club (FUN Topics magazine), and author of Images of America: The United States Mint in Philadelphia (a book that explores the colorful history of the Philadelphia Mint). I've contributed hundreds of articles for various coin publications including COINage, The Numismatist, Numismatic News, Coin Dealer Newsletter, Coin Values, and CoinWeek. I've authored nearly 1,000 articles here at The Fun Times Guide to Coins (many of them with over 50K shares), and I welcome your coin questions in the comments below!