This post may contain affiliate links. If you buy thru these links, we may earn a commission at no additional cost to you.
---
There are some really rare and valuable 1969 coins worth money out there, including the showstopper of them all: the so-called 1969 double die penny!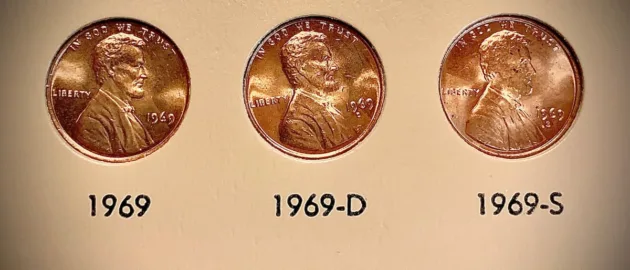 ---
Collectors know the 1969 double die penny by its correct name: the 1969-S doubled die Lincoln cent.
Either way you slice it, this rare 1969 error penny is definitely worth looking for!
Following is a complete list of 1969 coins that are worth money today…
Fun Facts About Coins From 1969
The United States Mint was busy in 1969…
More than 7 billion coins were cumulatively struck by the three U.S. Mint facilities in Philadelphia, Denver, and San Francisco — producing more than 34 coins for each of the 201 million people living in the United States at the time!
By 1969, the coin shortage crisis of the early 1960s was all but forgotten. The U.S. Mint was striking most of its coin in base metals. The lone exception was the 1969 Kennedy half dollar — which was still being made for circulation in a 40% silver format.
This wouldn't last long, though. The year 1970 marked the end of the circulating silver half dollars, and in 1971 all half dollars were made from copper-nickel clad — the same as the Roosevelt Dime and Washington Quarter, which had switched to that base-metal profile in 1965.
It seems like coins from 1969 are getting tougher and tougher to find in pocket change.
This has less to do with their overall scarceness and more to do with the sheer age of these coins — which are now well more than a half-century old. The average coin lasts only 30 years in circulation. Thankfully, countless collectors have held aside vast quantities of 1969 coins — so they remain common in coin-collecting circles.
This may lead you to wonder if 1969 coins are rare or valuable at all. The answer is yes, many 1969 coins are worth looking for.
Find out exactly which 1969 coins have value above face and are worth looking for…
Most Valuable Coins From The Year 1969
1969 Penny Value
Of all the coins from 1969 that you can find, you're most likely to locate pennies from that year.
More than 5.6 billion 1969 pennies were struck — representing, by far, the largest share of all U.S. coinage bearing the 1969 date. This is a common coin.
The good news about finding a 1969 Lincoln cent is that, no matter its condition, it is worth more than its face value of 1 cent.
Why, you ask?
Because 1969 pennies are made from a bronze composition consisting of 95% copper — a metal whose value has risen significantly in value over the years. Copper prices are such that pretty much any 1969 penny you find is worth at least 2 to 4 cents.
Uncirculated 1969 pennies are generally worth 20 to 60 cents.
Here's more detail on 1969 penny values:
1969 penny with no mintmark – 1,136,910,000 (1.3 billion) minted; worth 25 to 50+ cents
1969-D (Denver) penny – 4,002,832,200 (4 billion) minted; worth 20 to 40+ cents
1969-S (San Francisco) penny – 544,375,000 minted; worth 40 to 60+ cents
1969-S proof penny – 2,934,631 minted; worth 70 cents to $1+
The most valuable non-error 1969 penny is a 1969-D penny that was graded Mint State-67 Red by Professional Coin Grading Service and garnered $7,475 in a 2010 auction.
What's the 1969 double die penny worth?
Since it's an error coin, it is included in the last section of this article (Rare Error Coins From 1969 To Look For).
1969 Nickel Value
The 1969 Jefferson nickel is generally a common coin that still makes it appearance in pocket change from time to time.
However, unlike the 1969 penny, which is pretty much always worth more than face value these days, the 1969 Jefferson nickels are usually worth only their face value of 5 cents if found with wear.
Here are the current 1969 nickel values for coins in "uncirculated" condition and "proof":
1969-D nickel — 202,807,500 minted; worth 20 to 50 cents
1969-S nickel — 120,165,000; worth 20 to 50 cents
1969-S proof nickel — 2,934,631; worth $1 to $3
You may be wondering what the 1969-P nickel is worth. No 1969 nickels were made at the Philadelphia Mint. That's why you see no 1969 nickel values for Philadelphia strikes.
The most valuable 1969 nickel is a 1969-D nickel graded Mint State-65 Full Steps by Professional Coin Grading Service. This well-detailed 1969 nickel hammered for an astonishing $33,600 in a 2021 auction!
1969 Dime Value
The 1969 Roosevelt dimes were struck at Philadelphia and Denver Mints for circulation, with proofs struck at the San Francisco Mint.
All 1969 dimes were produced in a copper-nickel clad format.
Since the 1969 dimes do not contain silver, any circulated specimens you find in pocket change without signs of errors or varieties are worth their face value of 10 cents.
Here are the 1969 dime values for "uncirculated" and "proof" specimens:
1969 dime — 145,790,000 minted; worth 50 cents to $3
1969-D dime — 563,323,870; worth 50 cents to $3
1969-S proof dime — 2,394,631; worth $1 to $2
The most valuable 1969 dime to ever sell was graded Mint State-67 by Professional Coin Grading Service and took $1,495 in a 2021 auction.
1969 Quarter Value
The 1969 quarter is worth only face value of 25 cents if found in worn condition for the same reason 1969 dimes are — the copper-nickel clad composition, which is not very valuable.
Still some 1969 Washington quarters are indeed rare and valuable on the basis of their condition.
Here are the 1969 quarter values for pieces in "uncirculated" and "proof":
1969 quarter — 176,212,000 minted; worth $5 to $10
1969-D quarter — 114,372,000; worth $4 to $7
1969-S proof quarter — 2,934,631; worth $1.50 to $3
The most valuable 1969 quarter is a 1969-D that was graded Mint State-68 by Professional Coin Grading Service and fetched $3,819 in 2013.
1969 Half Dollar Value
The 1969 Kennedy half dollar is a 40% silver coin that's always worth more than face value due to its bullion content. So, the question is just how much is your 1969 half dollar really worth?
To find out the precise value of your circulated 1969 half dollar, you should check out the spot price of the coin.
Values of uncirculated and proof 1969 half dollars are a little more stable, though they, too, fluctuate with swings in silver prices.
As a rule of thumb, these are the average values of 1969 half dollars in "uncirculated" and "proof" grades when silver prices are $20 per ounce:
1969-D half dollar — 129,881,800 minted; worth $6 to $10
1969-S proof half dollar — 2,934,631; worth $5 to $10
You may have noticed there's no listing for 1969-P half dollar values. As with the nickel from the same year, no 1969 half dollars were struck at the Philadelphia Mint.
The most valuable 1969 half dollar is a 1969-D half dollar that was graded Mint State-67 by Numismatic Guaranty Company and sold for $15,600 in 2019.
Rare Error Coins From 1969 To Look For
One of the most famous 1969 error coins is none other than the 1969 doubled die penny.
It is an extremely rare and valuable error penny that is highly sought after by coin collectors. And for good reason… only a few dozen may exist!
This coin shows dramatic doubling of the inscriptions "LIBERTY" and "IN GOD WE TRUST," and the date "1969" is also doubled.
The telltale sign you may have a 1969 doubled die?… The "S" mintmark under the date is not doubled (because the mintmark was punched onto the die after it was doubled).
Values for a 1969-S doubled die penny range from about $25,000 for a circulated specimen to beyond $50,000 for an uncirculated example. The most valuable 1969-S doubled die penny commanded a whopping $126,500 in 2008!
Another popular 1969 error coin you may find is a quarter with no ridges (reeds) — or a smooth edge.
The thing to watch out for is if the 1969 quarter with no ridges (or a smooth edge) is heavily worn. Most 1969 quarters with smooth edges have no ridges due to heavy edge wear — which is most likely from extensive use in vending machines.
However, there is a type of error known as a broadstrike that can cause a quarter not to have its reeds. A broadstrike quarter error is thinner and wider than normal due to not being struck within its retaining collar — which keeps the quarter the correct width and thickness while imparting the edge reeds upon strike.
A 1969 broadstrike quarter could take $20 to $50, depending on condition.
---
Read Next: A List Of All U.S. Coins Worth More Than Face Value (By Denomination)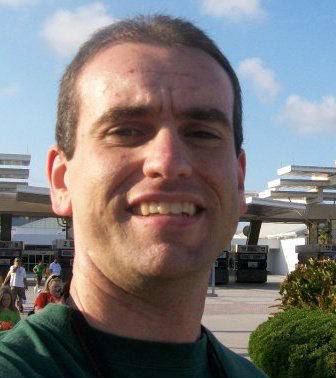 I'm the Coin Editor here at TheFunTimesGuide. My love for coins began when I was 11 years old. I primarily collect and study U.S. coins produced during the 20th century. I'm a member of the American Numismatic Association (ANA) and the Numismatic Literary Guild (NLG) and have won multiple awards from the NLG for my work as a coin journalist. I'm also the editor at the Florida United Numismatists Club (FUN Topics magazine), and author of Images of America: The United States Mint in Philadelphia (a book that explores the colorful history of the Philadelphia Mint). I've contributed hundreds of articles for various coin publications including COINage, The Numismatist, Numismatic News, Coin Dealer Newsletter, Coin Values, and CoinWeek. I've authored nearly 1,000 articles here at The Fun Times Guide to Coins (many of them with over 50K shares), and I welcome your coin questions in the comments below!