This post may contain affiliate links. If you buy thru these links, we may earn a commission at no additional cost to you.
---
As is the case with most other coinage, there are several types and denominations of U.S. gold coins.
There are too many to list in one or two articles, so I've decided to pick a few to go into more detail on.
The 4 I've chosen are the most common of the gold coins (they're all types of Eagle coins).
What Are Gold Eagle Coins?
If you're not a coin collector or you're just starting to collect coins, then you may be wondering, "What are  Eagles?"
Eagles are gold coins that have been given that name due to the different types of eagles depicted on the coin's reverse side.
There are 4 different denominations of Eagles and several different types and portraits for each denomination of gold Eagle coin:
(click to see all types/portraits for each coin)
The Coinage Act of 1792 was the first law to authorize the production of gold coins in the United States of America. Specifically, it mandated the weight and purity of three new coins and denominations: the eagle ($10), the half eagle ($5), and the quarter eagle ($2.50). The half eagle was first off the line in 1795, and the eagle followed later that year. Quarter eagles were first issued in 1796. These denominations were still being issued as late as 1933 (more on that in a few). Each one went through a series of design changes until they settled on the Liberty Head varieties of the Victorian era. These types are increasingly popular with collectors today. Source
Following are details for the 4 most common types of gold Eagle coins…
The Indian Head Quarter Eagle gold coin has a denomination of $2.50. It was minted from 1908 until 1929.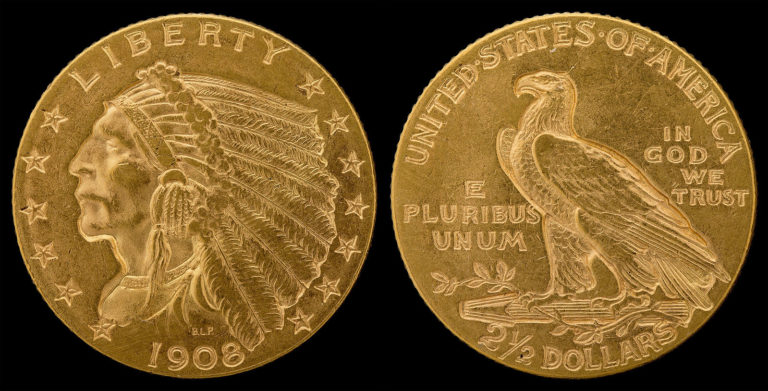 Designed by sculptor Bela Pratt, this gold coin has an Indian on the front. On the reverse, it has a picture of a standing Eagle. (This same design is also on the Half Eagle coin below.)
The design on Quarter Eagles and Half Eagles is unique in U.S. coin history — because instead of the design being embossed onto the coin, it is actually sunk into the coin. These are known as incuse coins. Rumors about the incuse design holding onto dirt and germs made these coins unpopular with the public.
Spare Change Ep05: Collecting Gold Coins Indian Half & Quarter Eagles
These Quarter Eagle gold coins range in value from $320 in Very Fine condition to $500 in MS-60 condition.
NOTE: A lot of times, you can't go by the book prices with gold coins — due to the gold market fluctuating so much from day to day. One day gold may be down and the coin would be worth more just for the type of coin it is, and the next day gold could be way up in the market and it would be worth more for its weight in gold than the scarceness of the coin.
Minted from 1908 until 1929, this $5 gold coin is by the same designer and depicts the same design on the front and reverse as the Indian Head Quarter Eagle, only the denomination is different.
Most Indian Head Half Eagles are worth anywhere from $495 in Very Fine condition to $595 in MS-60 condition with these exceptions:
1929 – $11,000 to $22,000
1915 S – $615 to $2,250
1914 S – $615 to $1,850
1913 S – $615 to $1,800
1912 S – $615 to $2,000
1911 S – $540 to $1,000
1911 D – $600 to $5,500
1910 S – $590 to $1,450
1909 S – $590 to $1,750
1909 O – $3,250 to $26,500
1908 S – $615 to $1,700
Did You Know?… Theodore Roosevelt wanted a redesign of U.S. coins — which led to these Indian Head gold coins.
This $10 gold coin also has an Indian Head obverse but it is a much different portrait than the one on Quarter Eagle and Half Eagle gold coins.
Minted from 1907 until 1933, the Plain Eagle gold coin shows the head of Liberty crowned with an Indian war bonnet — and a standing Eagle on the reverse.
The Indian Head Eagle gold coin was designed by Augustus Saint-Gaudens. You may have heard that name before. Saint-Gaudens is considered by many to be the greatest of modern sculptors, and it shows on his coin designs — especially his Double Eagle design (below).
Most $10 Plain Eagle gold coins are worth between $875 in Very Fine condition to $1,100 in MS-60 condition with these exceptions:
1930 S – $7,000 to $27,500
1920 S – $13,000 to $39,000
1913 S – $1,115 to $6,000
1912 S – $995 to $1,545
1911 S – $995 to $2,450
1911 D – $1,115 to $8,100
1908 S – $990 to $2,800
Spare Change Ep09: Indian Head Gold Eagle Coin
Minted from 1907 until 1933, the designer of this gold coin was Augustus Saint-Gaudens — who was known to be one of the greatest modern sculptors.
And I have to say, his work on the Double Eagle coin certainly didn't hurt his career any! This $20 gold coin is considered by many to be the most beautiful U.S. coin ever made. In fact, it's one of the most sought after coins in the hobby.
The obverse depicts Liberty walking with her skirt flowing around her, and she's holding a torch out in front of her.
The reverse has a picture of a flying Eagle with the sun coming up from the bottom of the coin and its rays shooting up behind the Eagle.
Spare Change Ep07: Saint Gaudens Double Eagle Gold Coins
This gold coin holds the record for the most money ever paid for a single coin at a coin auction.
In July of 2002 at an auction held by Sotheby and Stack, a 1933 Gem BU (brilliant uncirculated) Saint-Gaudens Double Eagle sold for $7,590,020. Yes, you read that correctly. That's over 7 MILLION dollars for one coin — more money than I'd likely ever see in 5 lifetimes!
It sold for so much because all of the 1933 Double Eagles were supposed to be melted down by the U.S. Mint. Only 13 are known to have survived, and that one is the only one that has ever been on the market.
Today, Saint-Gaudens Double Eagles are generally worth between $1,730 in Very Fine condition to $2,000 in MS-60 condition with these exceptions:
1933 (of course)
1932 – $17,000 to $27,500
1931 D – $17,500 to $35,000
1931 – $16,500 to $31,000
1930 S – $25,000 to $37,500
1929 – $11,000 to $25,000
1927 S – $8,000 to $27,500
1927 D – $250,000 to $400,000
1926 S – $2,000 to $3,000
1926 D – $12,500 to $17,500
1925 S – $3,000 to $10,000
1925 D – $2,800 to $5,500
1924 S – $2,100 to $3,750
1924 D – $2,100 to $4,000
1921 – $42,500 to $100,000
1920 S – $19,500 to $52,000
1913 S – $1,765 to $2,260
1909 D – $1,910 to $2,900
1908 S – $4,000 to $11,500
1907 – $9,600 to $17,000
Just in case you were wondering, second place for the highest amount paid at a coin auction isn't even close to what was paid for the 1933 Saint-Gaudens gold coin. There's about a 3 million dollar difference.
Other Types Of U.S. Gold Coins
There were many many types of gold coins produced, but it would be nearly impossible to list them all in detail here.
For example, U.S. other gold coins include:
Liberty Head one dollar coins
Indian Princess Head one dollar coins
Capped bust quarter Eagle coins
Liberty head quarter Eagles coins
Indian princess head three dollar coins
Stella four dollar coins
Capped bust half Eagle coins
Liberty head half Eagle coins
Capped bust Eagle coins
Liberty head Eagle coins
Liberty head double Eagle coins
I have been collecting and trading coins for years. Coin collecting is a hobby for me, and I've done a lot of research about coins through the years.