This post may contain affiliate links. If you buy thru these links, we may earn a commission at no additional cost to you.
---
The 1959-D wheat penny is a very famous mule coin — one of the best known and most valuable mule coins around.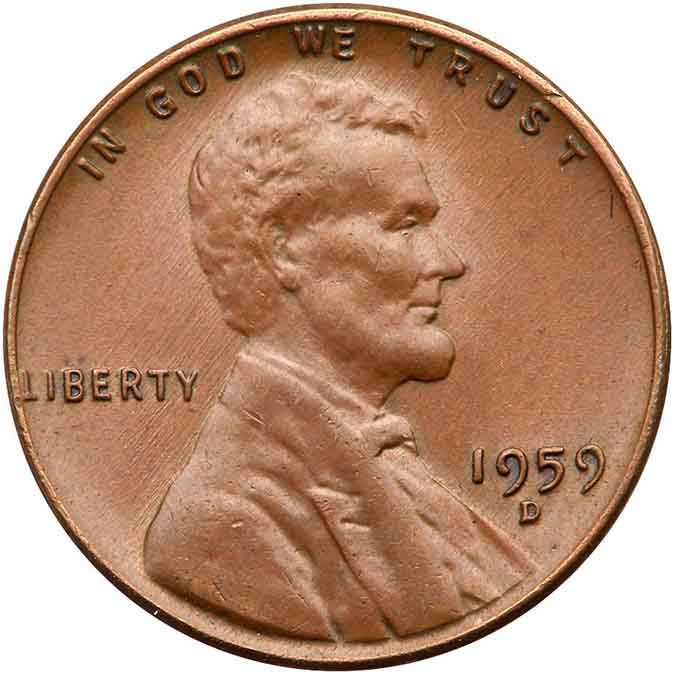 What is a mule coin? A mule coin is a type of error coin that has an obverse (heads side) and reverse (tails side) not typically seen on the same piece. A mule coin consists of 2 coins that wouldn't ordinarily go together.
This rare penny is worth a whopping $50,000 — that's a pretty penny indeed for this unique wheat cent!
Just one of these old wheat pennies is known to exist.
Making things even more complicated is the fact that some numismatists don't even know if this is a real coin. You see, there's absolutely no record that the United States Mint made it — even though the Secret Service has provided written documentation that it's genuine.
There's a fascinating story behind the 1959-D penny error. Read on to find out more about this unusual coin of unknown origin…
The Mystery Of The 1959-D Wheat Penny
As most coin collectors know, Lincoln wheat pennies were struck from 1909 through 1958. Beginning in 1959, the reverse of the wheat cent was redesigned with the Lincoln Memorial motif to honor the 150th anniversary of Abraham Lincoln's birth in 1809.
Until 1986, it was always assumed the last Lincoln wheat pennies were made in 1958. Or were they?
That's the question a retired California police officer named Leon Baller wondered after placing an ad in his local newspaper offering to buy rare coins. He received an inquiry from a reader on an odd 1959-D penny with wheat ears instead of the Lincoln Memorial on the reverse.
Baller paid $1,500 for the coin — unsure if it was real or not. He then sent it to the U.S. government for verification of its authenticity.
Here's what the U.S. government said…
The coin was returned to Baller, along with a note signed by Special Agent for the Department of the Treasury Richard M. McDrew. The note states:
"Enclosed is your United States 1¢ coin, dated 1959-D, with wheat reverse. This coin was microscopically examined by our Forensic Services Division in Washington, D.C. and it is their opinion the coin is genuine."
Baller sold the coin in 1987. It later turned up in the hands of coin collector Larry Choate, who re-submitted the coin to the U.S. government for further testing. (Choate took a big risk in doing this — because if the coin was counterfeit, it would've been confiscated. And if it was illegally made at the Denver Mint, the penny could've been confiscated for that reason, too.
The government once again said the 1959-D penny was genuine and deemed it a legal tender Lincoln cent. The coin was returned to Choate with a long letter explaining that multiple tests had been conducted on the mule penny. According to the Secret Service, everything about the coin checked out as genuine — including its weight, metal composition, surface details, and other physical characteristics.
So, Did The US Mint Really Strike The 1959-D Penny Error?
No record is known to exist of the 1959-D wheat penny ever being made. And the big coin grading firms such as Professional Coin Grading Service (PCGS) and Numismatic Guaranty Corporation (NGC) can't find any evidence the US Mint struck this coin. Therefore, neither of these companies has decided to certify or grade this coin.
But does that mean the coin was NOT made at the US Mint? NO!
In fact, many coins have been "unofficially" struck at the US Mint — like these:
The 1913 Liberty nickel is one of the rarest U.S. coins around. As it turns out, the 1913 Liberty nickel was struck at the US Mint without authorization. It's now one of the most valuable coins of all time, selling for more than $4 million!
A unique 1970-S proof Washington quarter struck on a 1941 Canadian quarter was made in much the same way. The unique error, worth about $35,000, was likely struck as a gag by a US Mint employee and escaped the mint facility.
Some believe the 1959-D penny error was also made as a one-off piece — perhaps struck as a prank, a gag, a dare, or even the intentional attempt by a worker to make a unique coin that someday could become very valuable.
How Much Is The 1959-D Wheat Penny Mule Worth?
The 1959-D mule penny sold for $50,000 in 2019, after being offered by famous numismatic auctioneers Ira & Larry Goldberg.
It's possible that as time goes on, coin collectors may be able to identify what pair of dies was used in striking the 1959-D penny error. If they can do this, or if one of the slabbing services like PCGS or NGC decides to certify and encapsulate the coin, the 1959-D wheat cent may become worth even more.
This is, after all, one of the most unique, controversial, and colorful mule error coins in the hobby.
The verdict is still out on how this coin was made — but there's no question any coin collector would be proud to own it.
Talk about a conversation piece!
---
Keep this U.S. error coins list handy — so you can reference which coins are rare & valuable by denomination!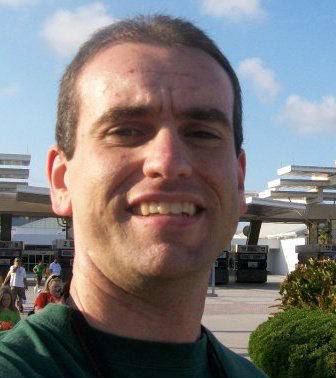 I'm the Coin Editor here at TheFunTimesGuide. My love for coins began when I was 11 years old. I primarily collect and study U.S. coins produced during the 20th century. I'm a member of the American Numismatic Association (ANA) and the Numismatic Literary Guild (NLG) and have won multiple awards from the NLG for my work as a coin journalist. I'm also the editor at the Florida United Numismatists Club (FUN Topics magazine), and author of Images of America: The United States Mint in Philadelphia (a book that explores the colorful history of the Philadelphia Mint). I've contributed hundreds of articles for various coin publications including COINage, The Numismatist, Numismatic News, Coin Dealer Newsletter, Coin Values, and CoinWeek. I've authored nearly 1,000 articles here at The Fun Times Guide to Coins (many of them with over 50K shares), and I welcome your coin questions in the comments below!