Coins can be used as more than just money, collectibles, and investments. Coins make great craft items, game pieces, and stackable construction toys, too.
Do you see the photo to the right? That is an American flag made with wood and 50 States Quarters!
That's right, the owner of that ingenious coin craft put each of the 50 state quarters in the star field of the flag.
And there are many other fun things to do with your coins.
You can:
Stack coins, making buildings, towers, pyramids, and forts

Place a bunch of coins on a flat surface and make faces, shapes, and landscape pictures with your coins

Play games with coins, including checkers and chess

Of course, just be sure that you aren't using rare, collectible, and valuable coins for these projects! After all, stacking, dropping, sliding, and holding coins can damage them.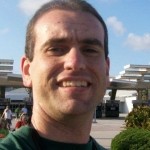 I'm a roller coaster junkie, a weather enthusiast, a frequent traveler, and a numismatist. My love for coins began when I was 11 years old. I primarily collect and study U.S. coins produced during the 20th century. I'm a member of the American Numismatic Association (ANA) and the Numismatic Literary Guild (NLG). I've also been studying meteorology and watching weather patterns for years. I enjoy sharing little-known facts and fun stuff about coins, weather, travel, health, food, and living green… on a budget.
...