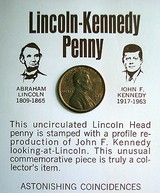 Rosie wrote us and said she found a penny that has an imprint of Kennedy facing Lincoln on it and wanted to know how much it's worth.
While I'm certainly no expert on coin values, and I'd highly recommend you consult with a legit numismatist (or Joshua) first, I'm fairly confident that it's worth very little, except for it's historic and commemorative value, of course.
That is, unless you find the "right person" who saves collector's items like these.
Check here to find the value of the Lincoln-Kennedy Penny.
How Common Are The Lincoln-Kennedy Pennies?
My mom used to work at a bank.
She brought home a few of these commemorative Lincoln-Kennedy Pennies that were affixed to cards which listed some "astonishing coincidences" between the lives (and deaths) of President Abraham Lincoln and President John F. Kennedy.
Pictured here is the one I've managed to save for the past 15-20 years.
Similarities & Coincidences Between Kennedy And Lincoln: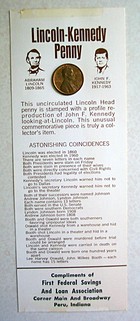 To some, all these "supposed" similarities simply have gone too far…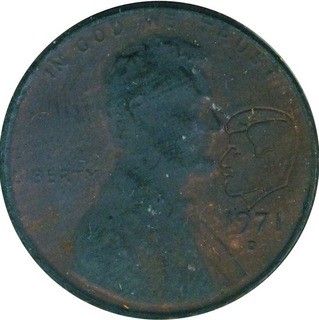 RELATED:

Rare U.S. Coins: Which Ones To Keep
Other Non-Commemorative Commemorative Coins Like This One
Rare U.S. Pennies Including the 1943 Penny
Two-Headed Coins: Are They Rare?