This post may contain affiliate links. If you buy thru these links, we may earn a commission at no additional cost to you.
---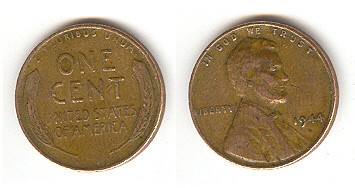 Bud wrote:
I have several hundred wheat pennies, with dates in the 50's, 40's, 30's, 20's, and I have a 1909. The 1909 does not have the initials on the back. Could you tell me if it is worth anything, and what would the collective value of the wheat pennies be? Thank you.
A bunch of readers want to know the values of their wheat back pennies — which collectors call "wheaties".
So here is the rundown on wheat penny values…
The Value Of Wheat Pennies
1930's wheaties and earlier are worth 10 cents to 30 cents, depending on the grade.
Almost all of the 1940's and 50's wheat pennies are worth 4 cents to 10 cents, depending on the grade of the coins.
Here are the exceptions to the above wheat penny prices: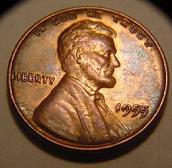 1955 Double Die — Some of the 1955 wheat cents were struck from improperly prepared dies that show a fully doubled outline of the 1955 date. The 1955 double die has a value of about $1,200.
1931 S — Due to very low mintage, this coin has a value of around $75.
1924 D — Low mintage makes this one worth $20.
1922 — There are 3 varieties, which I have explained in this article.
1914 D — Over a million were minted, but it still has a value around $200.
Now we come to a whole new section, the 1909 wheat cent and what you should look for…
The Value Of 1909 Wheat Pennies
1909 was the first year that wheat cents were issued.
The designer of this penny was Victor D. Brenner.
When the 1909 coins were first struck, they had Brenner's initials on the reverse — these are known as VDB cents.
However, his initials were removed mid-way through production and not reinstated again until 1918 when they were switched to the front (instead of the reverse) side of the coin.
So we ended up with:
1909 VDB's
1909 S VDB's
1909's without VDB
1909 S's without VDB
There were a lot fewer of these coins minted at the San Francisco mint — which makes the S's worth quite a bit more.
Here are the values of 1909 wheat pennies:
1909 with no VDB — worth about $2.
1909 S with no VDB — worth about $80.
1909 VDB — worth about $10.
1909 S VDB — known as "The King of the Wheaties," it's one of the most sought-after cents of any collector. There were less than 490,000 of them minted, and the value ranges from $650 to $2,200 depending on the grade.
Wondering where to look for the VDB mark?
You will find the VDB letters on the back side of the coin — at the very bottom — near the rim.
The VDB was printed very small and coins become worn over the years, so if you have a 1909 wheat cent, you might want to look closer with a magnifying glass.
Here is a picture of the 1909 S VDB cent. Can you see the VDB initials at the bottom near the rim?
Other Wheat Penny Values
There are a few other wheat pennies that have a value of more than just a few cents — they are:
1933 D – $2.00
1932 – $1.50
1931 D – $3.00
1926 S – $2.25
1923 S – $2.00
1916 S – $1.20
1915 S – $7.00
1915 D – $1.75
1915 – $1.60
1914 S – $12.00
1913 S – $7.00
1913 D – $2.50
1912 S – $12.00
1912 D – $6.00
1912 – $1.25
1911 S – $18.00
1911 D – $5.00
NOTE: The average buying price for any wheat pennies (other than the ones I have listed in this article) is about 4 cents each.
I have been collecting and trading coins for years. Coin collecting is a hobby for me, and I've done a lot of research about coins through the years.