This post may contain affiliate links. If you buy thru these links, we may earn a commission at no additional cost to you.
---
Coin collecting is a fun and exciting hobby for kids.
If you're interested in getting your children started early in coin collecting I have a few tips and pointers for you.
Some ideas as far as which coins might be the best for kids to collect…
Their first coin collection that you will be helping them set up is very important in determining whether or not they're going to stick with it or just get bored with it and go spend the coins on candy instead.
For example, you don't want to start your child out collecting silver Walking Liberty half dollars, because that is going to cost over $1,000 to complete the set.
Start A State Quarters Collection
For a youngster's first collection of state quarters, I would recommend a state quarter map.
A state quarter map shows a picture of each state in the U.S. and has a slot to insert the corresponding coin that was minted for that particular state.
This is a great and inexpensive way to get someone interested in the hobby for the first time.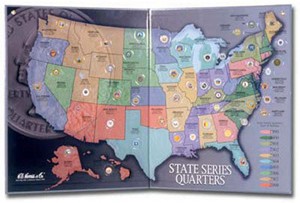 Click image for details
Or, Collect Lincoln Pennies
Another good idea (and even cheaper one) would be to start them out collecting Lincoln cents.
Not everyone has quarters lying around the house, but what about pennies? Pennies are plentiful and a great way to jump-start a collection.
The best thing about this type of coin collection is that just about every coin in it can be found in everyday pocket change!
They make coin folders for collecting Lincoln cents. These folders are not as fun to look at as the state quarter map, but they still have a slot to put every penny minted between 1975 and 2002.
NOTE: The folder pictured here is #3 of the series. If your child finishes this one, they also make folders #1 and #2 that go all the way back to 1909. By the time they finish these small collections and are looking to start more, they will be on their way to being an experienced collector.
Careful… they may eventually end up asking mom or dad to buy the rare ones they can't afford for Christmas presents…so watch out!
I have been collecting and trading coins for years. Coin collecting is a hobby for me, and I've done a lot of research about coins through the years.