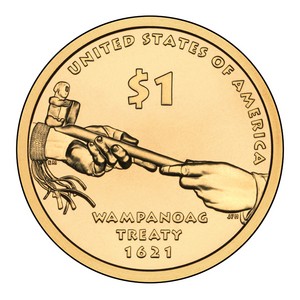 With the Presidential $1 coin series in full tilt and now entering its 5th year, the changing designs on the Native American dollars also continue forth.
2011 marks the 3rd year the United States Mint has been honoring Native American history and culture on the dollar coin.
Native American Gold Dollars
The Native American golden dollar, which was first struck in 2009, features a series of designs that honor Native American people, history, and culture.
Here's a rundown of the 2 previous Native American dollar designs:
What's on tap for 2011?
The 2011 Native American Dollar Coin Design
In 2011, the Native American dollar coin features an iconic image of hearkening to the early days of Europeans and Native Americans building pacts with each other in the New World: the trading of the peace pipe between Supreme Sachem Ousamequin Massasoit and Plymouth Colony Governor John Carver in the Wampanoag Treaty of 1621.
While European settlers and Native Americans established many treaties over the course of the early history of what would become the United States, it's thought by historians that the Plymouth Colony survived largely because of its alliance with the Massasoit.
Such peace treaties weren't reserved only for alliances between European settlers and the Native Americans; they were also created between Indian tribes.
About The New Dollar Design
The reverse (tail's side) image of the 2011 Native American dollar coin depicts a peace pipe being exchanged between the hands of Governor John Carver and the Supreme Sachem Ousamequin Massasoit.
Above the design is the inscription 'UNITED STATES OF AMERICA.' Below that is '$1.'
On the underside of the design is an inscription 'WAMPANOAG TREATY 1621,' describing the event depicted on the coin.
The obverse (heads side) of the Native American dollar coin features Sacagawea and her infant son Jean Baptiste, both of whom have appeared on the Sacagawea dollar since 2000. 'LIBERTY' is inscribed above Sacagawea, and the motto 'IN GOD WE TRUST' is displayed on the left side of the coin.
The edge of the coin features the date '2011,' motto 'E PLURIBUS UNUM,' and the mintmark.
Here's a list of other Native American coins in circulation.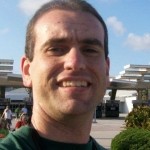 I'm a roller coaster junkie, a weather enthusiast, a frequent traveler, and a numismatist. My love for coins began when I was 11 years old. I primarily collect and study U.S. coins produced during the 20th century. I'm a member of the American Numismatic Association (ANA) and the Numismatic Literary Guild (NLG). I've also been studying meteorology and watching weather patterns for years. I enjoy sharing little-known facts and fun stuff about coins, weather, travel, health, food, and living green… on a budget.
...