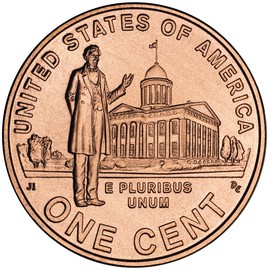 The third redesigned Lincoln penny in the 2009 Lincoln Bicentennial series is being released August 13, 2009.
This Lincoln Bicentennial cent features Abraham Lincoln's professional life in Illinois.
Here's more about the new Lincoln penny which highlights Abraham Lincoln's professional life…
The 2009 Professional Life Lincoln cent is a continuation of the 2009 Lincoln Bicentennial series.
The Lincoln Bicentennial cent series follows Lincoln from his early years in a Kentucky log cabin in the early 1800s up through his presidency, during the Civil War.
Professional Life Lincoln Penny In Circulation
While proof examples can be purchased only in proof sets the U.S. Mint is selling, uncirculated 2009 Lincoln Professional Life cents are being released in circulation and in rolls.
The U.S. Mint intends to make "millions" of the 2009 Professional Life Lincoln cents for circulation. Information on exactly how many will be released, though, is not currently available. Keep in mind that the U.S. Mint typically strikes billions (with a "B") of Lincoln cents every year, and has been doing so on a regular basis for more than 40 years.
Because of the popularity of the Lincoln Bicentennial cents, it apparently has been difficult for some coin collectors to locate the new pennies in circulation.
Facts About The Professional Life Lincoln Cent
Wondering who designed the Professional Life Lincoln cent?
Victor David Brenner, a famous sculptor whose career in the early 1900s drew much applause, designed the profile of the 16th president that we have known on the cent since 1909. Joel Iskowitz created the design on the reverse ("tail's side"). Don Everhart sculpted the design on the reverse.
The Lincoln Professional Life cent is being struck in both proof and uncirculated varieties.
The proof version is made from a composition of 95% copper, 5% tin and zinc, which was the original Lincoln cent metallic composition when the design was first struck in 1909. The uncirculated version is being made from the Lincoln cent's modern composition, which is 97.5% zinc and 2.5% copper.
Finding The Professional Life Lincoln Cent
So, what do you do if you can't find a Professional Life Lincoln cent in circulation? What if you can find one in circulation but still want to buy more?
The U.S. Mint is selling rolls of uncirculated Professional Life Lincoln cents beginning August 13th, 2009.
The Professional Life Lincoln cent roll set includes one roll of 50 Philadelphia-minted cents and one roll of 50 Denver-minted Lincoln cents. These sets will sell for $8.95 each (includes both rolls).
While this is considerably more expensive than the face value of the 100 coins, don't forget that 2009 Lincoln roll sets have been very popular with collectors and investors. In fact, early in 2009, the "Birthplace" Lincoln cent rolls were selling for over $75.00 on eBay — for sets which cost only $8.95 to buy from the U.S. Mint! Prices have since eased back a bit, but the excitement over the 2009 Lincoln Bicentennial cents is still fervent.
Part of the reason the Lincoln Bicentennial cent rolls are causing so much attention is that the rolls are being sold only for a limited time and there are household limits imposed on how many rolls are being sold to customers. Right now, the U.S. Mint is going to limit orders to just 5 roll sets per household.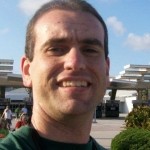 I'm a roller coaster junkie, a weather enthusiast, a frequent traveler, and a numismatist. My love for coins began when I was 11 years old. I primarily collect and study U.S. coins produced during the 20th century. I'm a member of the American Numismatic Association (ANA) and the Numismatic Literary Guild (NLG). I've also been studying meteorology and watching weather patterns for years. I enjoy sharing little-known facts and fun stuff about coins, weather, travel, health, food, and living green… on a budget.
...