The Presidential dollar series has been honoring our nation's former, deceased presidents since 2007. The series is slated to go on until at least 2016.
The U.S. Mint has also been issuing a corresponding coin series which honors our nation's first spouses. The First Spouses gold coin series has been a hit with collectors since it, too, first arrived on the scene in 2007.
But the First Spouse gold coin series poses one major problem for the collector on a budget: the coins are simply too expensive for many coin collectors!
With prices currently averaging around $800, First Spouse gold coins cost a pretty penny. So how can a collector get their hands on U.S. Mint-made commemorations of our nation's first spouses without having to spend hundreds or thousands dollars to buy those pieces?
Thankfully, the U.S Mint took care of that problem. They also issue bronze medals of the same designs seen on the First Spouse gold coins.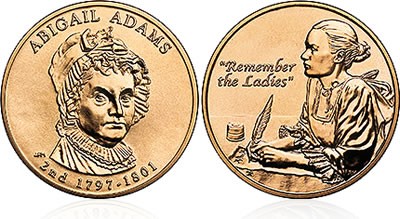 While the First Spouse medals are not U.S. legal tender, they are beautiful (even striking!) pieces that embody the essence of the First Spouse gold coin series without the burdensome cost of buying expensive gold coins.
Buying First Spouse Medals
Since the First Spouse bronze medals are not legal tender, you will not find them at any bank, store, or vending machine. First Spouse medals need to be purchased from the U.S. Mint or a private coin or exonumia dealer who sells medals.
First Spouse medals come in 1-5/16th" size. They cost $3.50 each. For an additional $3, you can also buy a presentation box to hold one of your First Spouse bronze medals.
Here are the First Spouse medals currently available from the U.S. Mint.
The Value of First Spouse Medals
First Spouse bronze medals are selling for $5 to $10 each in the aftermarket (meaning private sales, such as from coin dealers).
There is a bit of demand for some of these medals, and particularly sets of medals.
First Spouse Medal Mule Error
Did you ever hear of a "mule" error?
That's when a coin has an obverse ("heads") and reverse ("tails") design not intended to be on the same coin together.
In the case of the First Spouse medal series, there have been reports of the 2007 Abigail Adams obverse being found on a medal with the Louisa Adams medal reverse design.
The Adams medal mule error is currently priced around $750 to $1,000.
More about the First Spouse medals and what each bronze medal looks like.