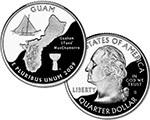 The District of Columbia and United States Territories Quarter program keeps rolling forward.
The 3rd quarter in the series honors Guam. It was released May 26, 2009.
Following are the basic facts and values for the Guam quarter…
About The Guam Quarter

The Guam quarter honors the North Pacific Ocean island which became a U.S. territory in 1950.
An outline of the island is the prominent feature on the Guam quarter. Also on the reverse (tails side) of the Guam quarter are a "Proa" (a fast sailing boat) and a Latte (a type of stone pillar used for supporting some of Guam's wooden buildings). The reverse was designed by David Westwood.
The obverse (heads side) was originally designed by John Flanagan in 1932 but modified significantly in 1999 by William Cousins. The redesigned obverse design was used for the duration of the 50 State Quarter program and remains unchanged for the DC and US Territories Quarter program.
Where To Find Guam Quarters
The Guam quarter was released into general circulation, just as all of the 50 States quarters and both of the previous DC and US Territories quarters have been.
Guam quarters can be bought for face value from any bank. They are available by the tens of millions.
If you are hoping to find a mint condition (uncirculated) Guam quarter, your best bet is to shop at a coin dealer near you (or online). You can also order Guam quarters from the U.S. Mint.
Consider, however, that ordering from a coin dealer or the U.S. Mint means paying more for your coins than their face value. Most coin dealers are charging between 75 cents and $1 each for uncirculated versions of new quarters.
The U.S. Mint is selling Guam quarters in a few formats:
Two-roll uncirculated sets (80 quarters) of the Guam quarter are selling for $32.95. The sets include 40 Philadelphia quarters and 40 Denver quarters.

The U.S. Mint is also selling the Guam quarter in sets which include other coins. The 2009 DC and US Territories quarter copper-nickel proof set is now on sale for $14.95. The 90% silver proof version is selling for $29.95. The U.S. Mint will also release a mint set later in 2009 which includes uncirculated versions of "business strike" coins from both the Philadelphia and Denver mint. A price for the 2009 mint set is not yet available.