You may not see silver dollars too often these days, but as recently as the late-1970s, they were still being made.
Eisenhower dollars were the last big silver dollars to be produced for circulation. The obverse bears a head profile of World War II general and 34th president Dwight D. Eisenhower. The reverse shows a modified take on the Apollo 11 emblem, which depicts an eagle clutching an olive branch as it lands on the surface of the moon.
Eisenhower dollars are not at all rare. The fact you don't see them in circulation – and only seldom at banks – has only to do with the issue that these coins weren't too popular with many people as a circulating coin. After all, Eisenhower dollars are large, heavy coins that weigh about 23 grams —  nearly as much as an old silver dollar and just as wide.
While silver dollars may have circulated well back in the days of the Wild West, carrying around big Eisenhower dollars just didn't go over too well with people in the inflationary times of the 1970s. Even then, a dollar didn't go too far. In fact, it was the relatively immense size of Eisenhower dollars that prompted the United States government to opt for the nearly quarter-size Susan B. Anthony dollar that took over in 1979.
Here are some fun and interesting facts about Eisenhower dollars:
They were made from 1971 to 1978.
They measure 38.1 millimeters in diameter.
Some were struck with a copper-nickel clad composition.
Special Eisenhower dollars have a 40% silver composition.
The Philadelphia and Denver mints produced circulation strikes.
The San Francisco mint made 40% silver Eisenhower dollars and proofs.
The Differences Between Blue Ikes And Brown Ikes
You'll probably hear about Brown Ike dollars and Blue Ike dollars during your coin collecting travels. Blue and brown don't refer to the colors of the Eisenhower dollars. Instead, they describe the color of the packages within which the U.S. Mint sold special collectors' Eisenhower dollars from 1971 to 1974.
Blue Eisenhower dollars are uncirculated 40% silver Eisenhower dollars which are packaged in a blue envelope.
Brown Eisenhower dollars are proof 40% silver Eisenhower dollars sold in a brown-colored, faux-woodgrain box.
Collecting Eisenhower Dollars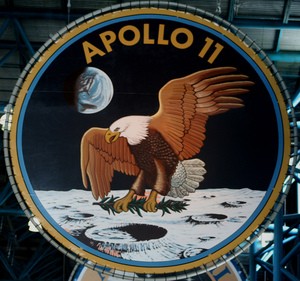 Something many coin collectors like about Eisenhower dollars is that, compared to other series, they really aren't very expensive to collect.
There are just 32 coins to an entire set, and that includes all the different strikes in both copper-nickel clad and silver. That also includes all the bicentennial metal and design varieties.
In fact, presently, it's possible to complete an entire set of Eisenhower dollars for well under $300.
While the last Eisenhower dollars were minted all the way back when disco was king and gas cost less than $1 a gallon, Eisenhower dollars really haven't grown any scarcer or harder to find in general than when they were minted.
The most expensive among all the Eisenhower dollars is the 1973-S 40% silver proof. It costs between $40 and $50 to purchase at most coin dealers.
Other proof and uncirculated Eisenhower dollars are priced at around $7 to $10.
Uncirculated copper-nickel clad Eisenhower dollars generally cost under $5 each.
Proof copper-nickel clad Eisenhower dollars can be had for less than $10 each.
Design Varieties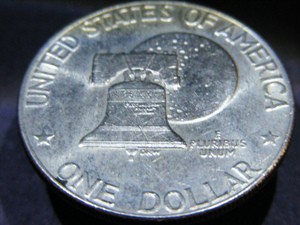 There are 2 different types of Eisenhower Bicentennial dollars. This is due to a change in the font style of the lettering on the reverse side of the 1976-dated Eisenhower dollars. These, by the way, show a picture of the Liberty Bell superimposed over a profile of the moon.
The Bicentennial design was submitted by Dennis R. Williams.
Bicentennial Dollar Variety 1 has blockier lettering.
Bicentennial Dollar Variety 2 has slimmer writing with serifs (the little feet at the ends of the letters).
Frank Gasparro Designed The Eisenhower Dollar
The Eisenhower silver dollar was designed by Frank Gasparro – he also designed the Lincoln Memorial on the back (reverse) side of Lincoln cents made from 1959 to 2008 and the Susan B. Anthony dollar.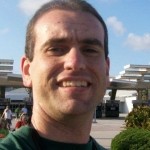 I'm a roller coaster junkie, a weather enthusiast, a frequent traveler, and a numismatist. My love for coins began when I was 11 years old. I primarily collect and study U.S. coins produced during the 20th century. I'm a member of the American Numismatic Association (ANA) and the Numismatic Literary Guild (NLG). I've also been studying meteorology and watching weather patterns for years. I enjoy sharing little-known facts and fun stuff about coins, weather, travel, health, food, and living green… on a budget.
...