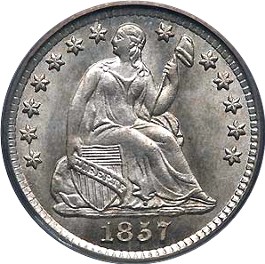 Seated Liberty half dollars, minted from 1839 through 1891, are a relic from a time in the United States when the country was expanding westward, the East established itself as a hub of trade and commerce, and the North and South were engaged in a battle that nearly saw the nation torn apart.
Perhaps the defining design of the decade, the Seated Liberty image was found on virtually all silver coinage of the era.
In fact, the Seated Liberty design persists as one of the longest-running coin designs in United States history!
Seated Liberty Half Dollars

Seated Liberty half dollars were designed by Christian Gobrecht and were minted for over 5 decades.
Gobrecht's famous Seated Liberty design also appears on these other coins during the middle of the 19th century:
Half dime
Dime
20-cent coin
Quarter
Silver dollar
The Seated Liberty half dollar is generally collected as a type coin, though some coin collectors who are quite patient and have enough money to spend on the endeavor try and complete — or at least come close to finishing — date and mintmark sets in albums.

The Different Varieties Of Seated Liberty Half Dollars
Over the course of minting the Seated Liberty half dollar, slight variations were made to the overall design of the coin.
5 different designs exist for the Seated Liberty half dollar:
Variety 1 — 1839-1853; 1856-1866 (no motto located above the eagle)
Variety 2 — 1853 (arrows on either side of the date; rays around the eagle)
Variety 3 — 1854-1855 (arrows near date but no rays around the eagle)
Variety 4 — 1866-1873; 1875-1891 (IN GOD WE TRUST above eagle)
Variety 5 — 1873-1874 (arrows around the date)
Seated Liberty Half Dollars Values

Seated Liberty half dollars have long been a favorite coin among many coin collectors. They are a staple of coin collectors who love 19th-century American coinage and are typically found in the albums, holders, and sets of type coin collectors. Seated Liberty half dollars — at least those of the early 1860s — are highly popular among Civil War memorabilia collectors.
For those reasons and the fact that Seated Liberty half dollars are relatively scarce for the most part, these coins have increased in value over the decades.
Values begin at around $25 to $50 for Seated Liberty half dollars which are uncleaned, aren't damaged or discolored, and are in lower, well-worn circulated grades. Uncirculated specimens can start at prices of over $500 to $700.
Below are the values for the scarcer, rarer Seated Liberty half dollars in grade ranges of Good through Mint State 60:
1844-O doubled die $500 to $10,000
1847 over 6 $2,000 to $26,500
1850 $215 to $2,500
1851 $315 to $3,250
1852 $350 to $3,000
1853-O without arrows $200,000 to $425,000+
1855-S $475 to $27,000
1866-S no motto $475 to $9,000
1870-CC $1,650 to $87,500
1871-CC $400 to $18,500
1872-CC $165 to $35,000
1873 no arrows & open 3 $3,000 to $22,500
1873-CC with arrows $240 to $8,500
1874-CC $1,000 to $14,500
1877 over 6 $200 to $4,000
1878-CC $850 to $13,500
1878-S $25,000 to $105,000
1879 $400 to $1,025
1880 $375 to $925
1881 $375 to $925
1882 $400 to $975
1883 $375 to $925
1884 $400 to $975
1885 $400 to $975
1886 $400 to $975
1887 $455 to $975
1888 $375 to $925
1889 $375 to $925
1890 $375 to $925
1891 $70 to $460