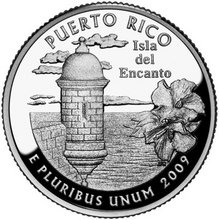 The second United States District of Columbia and U.S. Territories quarter is now being struck.
The Commonwealth of Puerto Rico (the U.S. territory located roughly 1,000 miles southeast of Florida) is honored on the 2nd quarter dollar of 2009.
Here's everything you want to know about the Puerto Rico quarter...
Puerto Rico Quarter Release
The Puerto Rico quarter was released on March 30, 2009.
It was released to the public in the same fashion as the 50 state quarters and the District of Columbia quarter.
Tens of millions of Puerto Rico quarters are available. Banks have rolls and single coins available for coin collectors and fans of the quarter.
Also, many coin dealers are offering roll quantities and single coins beginning in this month. Coin collectors can also purchase Puerto Rico quarters directly from the U.S. Mint.
The Puerto Rico quarter and the other coins in the District of Columbia and U.S. Territories Quarters Program were legally approved thanks to H.R. 2764, a bill President George W. Bush signed into law December 26, 2007.
The Value Of Puerto Rico Quarters

While the Puerto Rico quarter can be bought by the roll (in uncirculated grade) from banks for face value, the coin sells individually for between 50 cents and a $1 from most coin dealers.
Puerto Rico quarters are worth face value (25 cents) if worn.
At the time of this writing, there are no known, significant Puerto Rico quarter errors.
Puerto Rico Quarter Design
The Puerto Rico quarter features a picturesque view of an old sentry box and, behind it, the sea.
A hibiscus, which is Puerto Rico's official flower, is seen to the right. The words Isla del Encanto (Isle of Enchantment) are inscribed amid the clouds which hover above the sea.
The beautiful reverse (tails side) was designed by U.S. Mint engraver and sculptor Joseph Menna. The obverse (heads side) was originally designed by John Flanagan and modified for the 50 States Quarters program by William Cousins.
Puerto Rico's governor, Anibal Acevido-Vila, selected the design for the Puerto Rico quarter after viewing 2 possible reverse designs. On July 31, 2008, the Secretary of the Treasury approved the final Puerto Rico quarter design.
Only one other design was considered for the Puerto Rico quarter. That design featured Palacio de Santa Catalina (Santa Catalina Palace).
RELATED:
...