This post may contain affiliate links. If you buy thru these links, we may earn a commission at no additional cost to you.
---
Many people who ask about coin values often get the response 'If the coin isn't damaged, then your coin is worth…
You're probably asking yourself what damaged U.S. coins look like, though.
Does wear, by itself, cause damaged coins? In a word, NO.
When coin collectors talk about damaged coins, they're referring to coins that:
Have been cleaned
Have holes
Are bent
Are corroded
Have been messed up in one way or another
These aren't all of the different types of coin damage — but they're among the most common.
Let's talk a bit about damaged coins, look at a picture of a problem-free coin, and also look at photos of damaged U.S. coins.
As one example, some of these wheat pennies appear to be damaged and not problem-free:
Example Of A Problem-Free Coin
The 1909-VDB Lincoln cent seen here is the type of coin that most coin collectors want – a coin with no damage whatsoever!
This photo shows a coin that, yes, is worn, but is otherwise what coin collectors call problem free.
It hasn't been cleaned, isn't bent, isn't corroded, and otherwise just shows normal wear and tear for its age and grade.
This is the type of coin you should seek for your coin collection.
Whenever a value or price is given for most coins, a problem-free coin is the assumption.
When shopping for scarce or old coins, finding a problem-free coin can be rather difficult. However, it's worth the wait (and the money) to buy a problem-free example anytime you want to buy a nice coin.
Problem-free coins are more likely to increase in value than damaged coins, and problem-free coins always have a market.
Photos Of Damaged Coins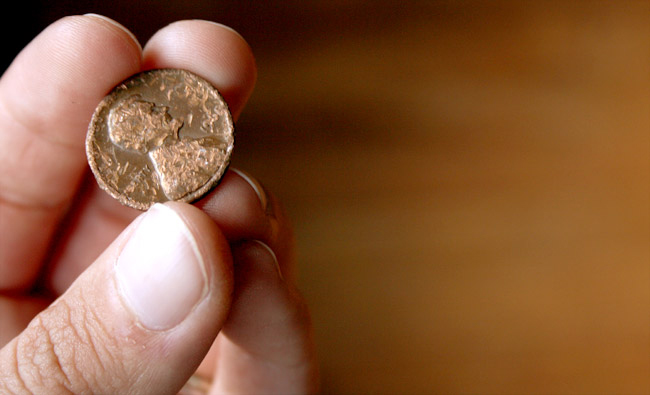 Following are photo examples of a few different types of coin damage. Some of these photos are truly ugly, However, it is a fact of life that many coins become damaged these days.
It's true that some people buy damaged coins because they cost less than problem-free coins.
Damaged coins (often called cull coins) do represent deeply discounted buying opportunities for coin collectors who are wanting to buy some otherwise expensive coins on the cheap. But damaged U.S. coins are generally not good investments and are often very hard to sell.
So, let's take a look and see the type of coins most of us want to avoid having in our coin collections. If any of your coins look like the ones below, then most of the coin values you'll come across online or in books will generally not apply to your damaged coins.
Cleaned Coins Are Damaged Coins
Cleaned coins probably represent the most common type of coin damage encountered.
Cleaned coins can sometimes be hard to spot — because they are either in the process of naturally retoning, or because the person who cleaned them did what some might say is an expert job.
Most cleaned coins, however, will have a very obvious and unnatural color and brightness.
The coins in this photo include a cleaned 1937 Lincoln cent in the process of retoning, a freshly cleaned 1975-D Lincoln cent, and a 1986 Lincoln cent heavily rubbed with a pencil eraser.
Cleaned coins aren't preferred by any coin collectors.
And always remember — you should always avoid cleaning coins, no matter how tempting it may be!
Coins With Holes Are Damaged Coins
Coins are often used as jewelry. In many cases, coins used in jewelry are holed so they can be placed on a string, beads, or necklace.
Coins with holes are worth only a fraction of their problem-free value.
NOTE: There are many foreign coins which have intentional holes created by the mints at which those coins are made. These are worth their normal value.
The 1961 Lincoln cent in this picture has a very distracting, obvious hole right in front of Lincoln's chin.

Bent Coins Are Damaged Coins
Bent coins are another common type of coin damage.
Coins can get bent in a number of intentional and accidental ways.
However a coin became bent, its value is reduced significantly from what it would have been worth without being bent.
You can see a slight but nevertheless completely unattractive bend in this 2000-dated Lincoln penny. The bend is most evident on the left side of the coin, where it reads LIBERTY.
Corroded Coins Are Damaged Coins